ABOUT US
---
Fast Quote, Flexible Pricing; High Dimensional Accuracy, High Speed and High Reliability.
CMM, Pin Gauges, Roughness Machine, Projector and Micrometer, Concentricity measurement; Rapid Prototyping and End-Use Production.
10+ Surface Finishes; Smooth Surface and Strict Tolerance, Custom Material and Surface Treatment.
High Productivity and Improved Efficiency; Low, Medium to High Volume Production Runs.
Be-Cu prototype has cooperated with many companies in the United States, Germany, and Canada for up to 10 years. Fast DMF assessment, efficient service, is the beginning of our cooperation.
CHINA TOP-GRADE CUSTOM METAL SPRINGS SERVICE SUPPLIER
---
Be-Cu has developed high-level manufacturing technique in production fields of custom metal spring.
Be-Cu spring is a company specializing in precision spring manufacturing, established in 1995. Be-Cu spring Workshop was established in November 2007 and passed the ITAF 16949 certification in 2016. It covers an area of ​​6,000 square meters and currently employs 95 people.
Be-Cu spring works tirelessly and tirelessly to pursue the perfection from raw materials to production, testing, craftsmanship and structure, as a guarantee of product quality and high grade, so as to meet the ever-evolving market demand.
Precision Spring Quality Inspection Instrument Workshop
The spring testing equipment owned by Be-Cu spring includes projectors, image measuring instruments, flaw detectors, force measuring scales, salt spray testing machines, fatigue testing machines, sorting machines, etc., vernier calipers and micrometers throughout, which will better ensure The reliability and spring quality of the products from the factory.
Be-Cu adheres to the development strategy of "technology-centered, market-oriented" and the scientific development concept of "quality creates brand, brand creates value", and based on ISO9001 quality system, fully introduces IATF 16949 industry quality management system, and implements 6S strengthening Management, actively implement the EU regulations on environmental management substances, and continuously improve the management level, product and service quality.After completing the IS02008 system certification in 2008, the factory has successively invested in high-end detectors (electronic force scales, fatigue testing machines, flaw detectors, optical projectors) and other related equipment, which can be called the industry leader in China.
Precision Spring Machining Workshop
Be-Cu specializes in supporting the production of customer products, from compression springs, circlips, torsion springs to various special-shaped springs, etc. The products are widely used in the automobile and motorcycle industry, electronics, electrical, optical instruments, meters, agricultural machinery and other fields. The development, design and production of high-precision cutting-edge products, providing high-quality accessories for aerospace, military, scientific research and other units, and establishing business contacts with many well-known enterprises at home and abroad, are deeply trusted and recognized in the industry.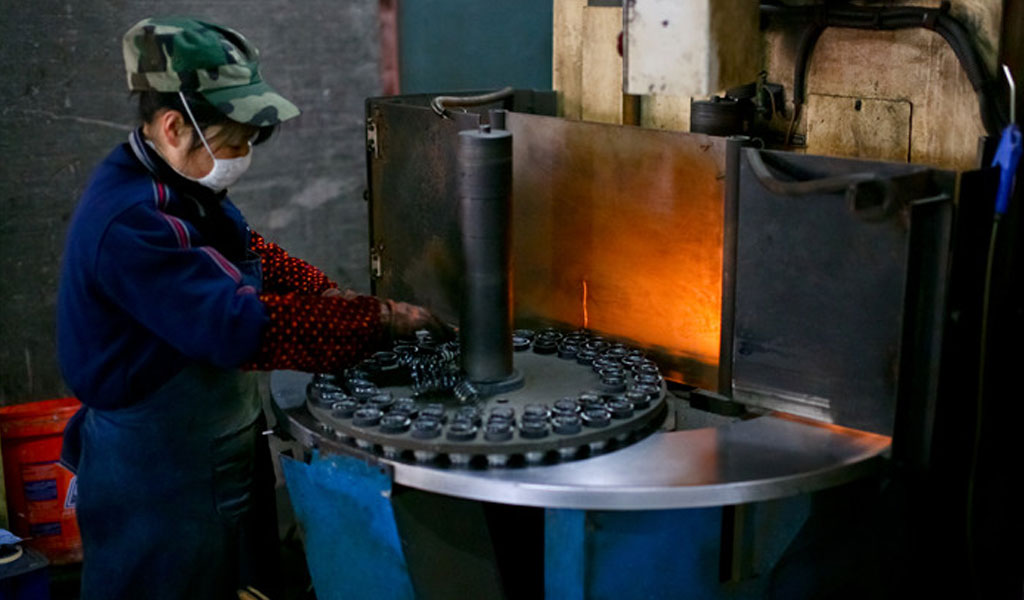 From the delivery of materials, winding, heat treatment… to packaging and delivery, the process card of the product is tracked throughout the process, and data collection is carried out throughout the process to realize the functions of production process tracking and quality traceability, and more effectively avoid problems in the production process. , and provide real and favorable data and experience for precise machining.According to the different needs of customers, it can be divided into compression springs, tension springs, circlips, special-shaped reeds, disc springs, etc., and at the same time can be divided into ordinary compression springs, waist drum springs, bucket springs, unequal pitch compression springs, side hooks , center hook, mandarin duck hook, long and short hook, special-shaped hook, tension spring and so on. Different requirements will have different product names.
Precision Spring Finished Parts Warehouse
Application areas: aerospace, military, automobile, motorcycle, bicycle, fitness equipment, medical equipment, instrumentation, communication equipment, office equipment, electrical appliances, electronics, switches, door locks, toys, stationery, locks, gifts, handicrafts, kitchen utensils, Furniture, remote control and various plastic hardware products and other industries.
Through the ISO9001, TS16949 quality management system, the effective quality control of each project is carried out, and the "quality of production process" is truly realized. Adhere to the production operation standards, and strictly control the product supervision and management procedures, strictly control the quality, continuously improve the machining technology level, and continuously develop and apply new technologies and new processes.
In the spring winding, we have invested very advanced professional equipment made in Taiwan to ensure the high quality and consistency of the products, and can meet the cutting-edge needs of different customer products.
Provide drawings (format: CAD, PDF, JPG, step, etc.) or samples. Information includes: quantity, material, precision tolerance, surface treatment and special requirements.Our company can modify or design the drawings appropriately according to customer needs. You can directly send the drawings to [email protected] and notify by phone or information.