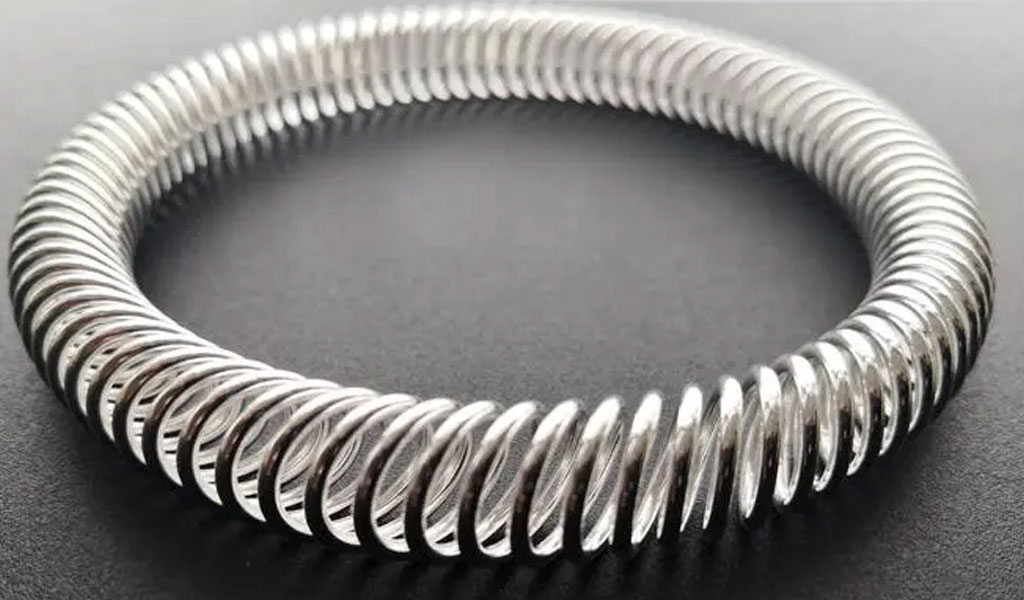 Canted Coil Spring
---
A canted coil spring is a circular spring with windings that are oval and inclined. When compressed, each winding deforms independently, and no matter which part of the winding deforms, the entire spring reacts to achieve load sharing at each contact point.
For connectors, the ends of the spring will be soldered to form a complete ring. For the specific insertion or extraction stress requirements of each standard coil size, springs can be placed into grooves in the design of sockets and plugs.
As the tab is inserted into the slot, the canted coils of the spring deform under the constant spring stress and create resistance until the coils match the slot.At this point, the load on the coil and the design of the slot create continuous spring stress, so a corresponding pullout force is required to disconnect the two components. Canted coil springs serve two key functions in micro-connector snaps, reducing the number of components in the system.
Benefit Of Canted Coil Spring
---
Simple structure, small size, less material, low cost; meets the device design space
The requirement of small size is suitable for compact design; the minimum number of parts simplifies the design of connecting devices.
Multi-point contact and high concentration can achieve almost loss-free contact. It ensures a large carrying capacity, good electrical conductivity, and high electrical and thermal stability.
The contact pressure of each contact point is not high, and its silver-plated layer has good wear resistance during opening and closing operations.
The unique structure allows it to have a wide working range; it allows larger tolerances on the joint surfaces; it has greater adaptability to processing errors and assembly errors, and is more suitable for mass production.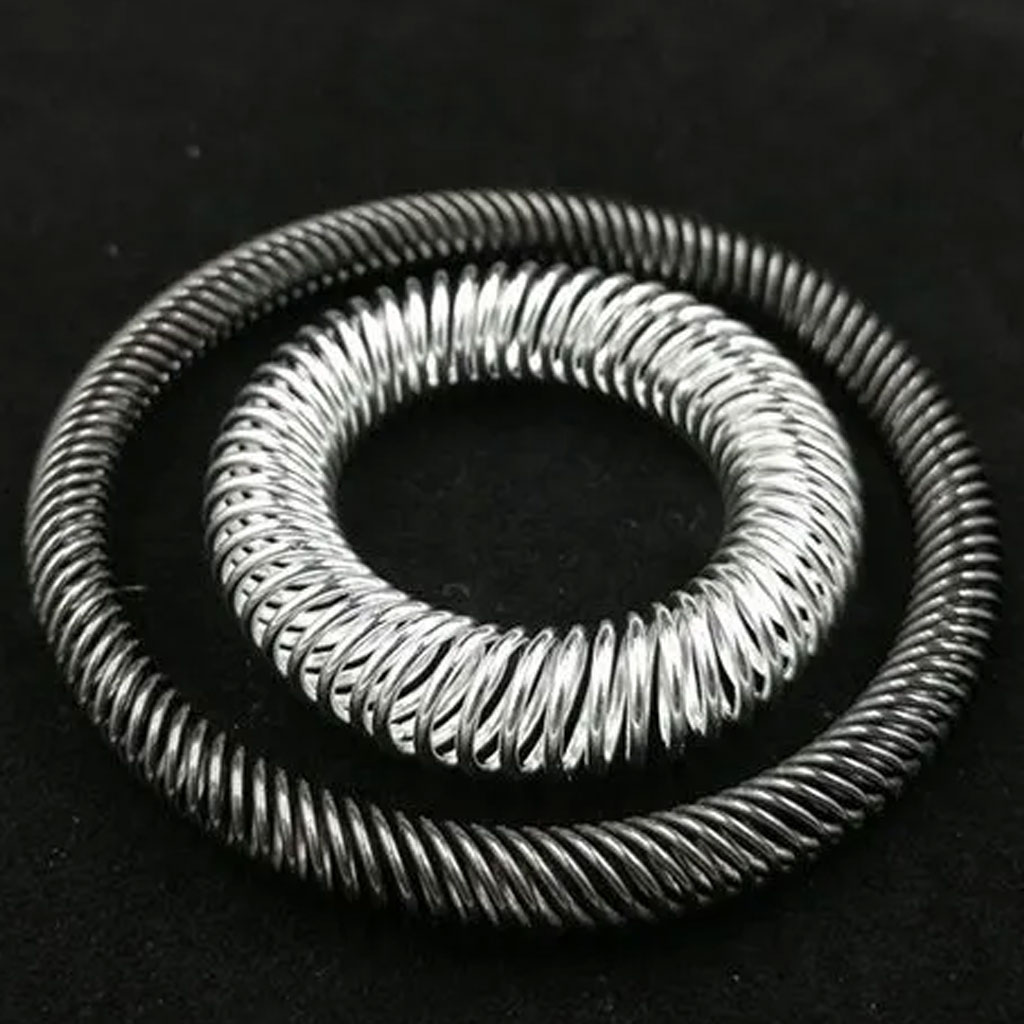 Canted coil springs provide dual functions, both as mechanical joints and to maintain the circuit between the male and female connectors, minimizing radio frequency interference and complex interconnect designs of electronic devices. The compact design with simple installation provides a new test for interconnect designs in military, industrial and commercial applications. The speed of circuits is increasing, while the size of electronic components is decreasing. Therefore, the connector needs to handle more signals at higher speeds in a smaller space, or the number of contacts is greater in a more compact space and the connector size is smaller. Its unique elasticity-deformation curve and wide operating range allow compression of the spring up to 35%. The relatively stable elasticity reduces wear caused by temperature differences, tolerances and other deviations, and each spring coil can function independently.
Canted Coil Spring Manufacturer – Mechanical Connecting Springs Suppleris
---
BE-CU New Material Technology Co., Ltd.'s main products include GIL connectors, beryllium cobalt copper, watch strap contacts, spring contacts, special-shaped plum blossom contacts, composite watch strap contacts, charging pile current connectors, chromium zirconium copper, Copper alloy, copper alloy spring, inclined coil spring, inclined coil spring contact finger, high-strength and high-conductivity alloy material, watch strap contact finger for car charging pile, high-voltage switch contact finger, spring watch strap contact finger, high-performance copper alloy material, automobile The charging pile uses spring contacts, etc.
The high-strength and high-conductivity materials developed by the company, especially the chromium-zirconium-copper alloy materials, have gained domestic and international status and are favored by many customers, such as Shanghai Siyuan Electric, Shandong Taikai Electric, Henan Pinggao Electric, Shanghai Zhongfa Tebian, Nan Ruihengchi Electric, Chint Electric, etc. have all used our spring contacts or materials. At the same time, the products have established cooperative relationships with foreign manufacturers such as South America's Eaton and Germany's Reitz, and the products are exported to Europe and South America.
To customize the contact finger spring, you need to provide the following necessary parameter information:
| | |
| --- | --- |
| Wire Diameter d: mm | Explanation: Diameter of spring steel wire |
| Spring Inner diameter Di: mm | Description: ring spring inner diameter |
| Slanted Area Large Diameter W: mm | Explanation: Oblique circle ellipse major axis |
| Inclined Circle Diameter H: mm | Explanation: Minor axis of inclined circle ellipse |
| Total Number Of Laps: | Explanation: The total number of turns of the inclined coil |
| Material Requirements: | Such as: beryllium copper C17200, C17500, chromium zirconium copper C18500, stainless steel SUS304, 316…etc. |
| Surface Treatment: | Explanation: copper plating\nickel plating\silver plating\gold plating\…etc. |
| Spring Outer Diameter: | Description: The outer diameter of the ring spring |
| Other Request: | Such as: spring use, current requirements, shaping flatness requirements, welding requirements, etc. |
The Case Studies Of Canted Coil Spring
---
Inclined coil spring is also called spring contact finger, contact finger spring, and ring spring. It can transmit strong current in a small space and can also be used as a purely mechanical connection. There are no restrictions on its use and it is suitable for use in a variety of static or dynamic medium and high pressure environments. The size of the spring contact fingers and the number of independent coil turns make the spring suitable for a variety of electrical contact designs, with the largest contact point for optimal current carrying capacity for electrical or EMI shielding use. Each coil will independently compensate for contact and surface variations, which allows for wider tolerances between fittings. Multiple contact points increase conductivity, and its operating temperature is relatively low, so it has a longer service life.
Our spring contact technology is used for power contacts in a variety of industries, including medical electronics, medical devices, aerospace and defense, energy and automotive, and more.