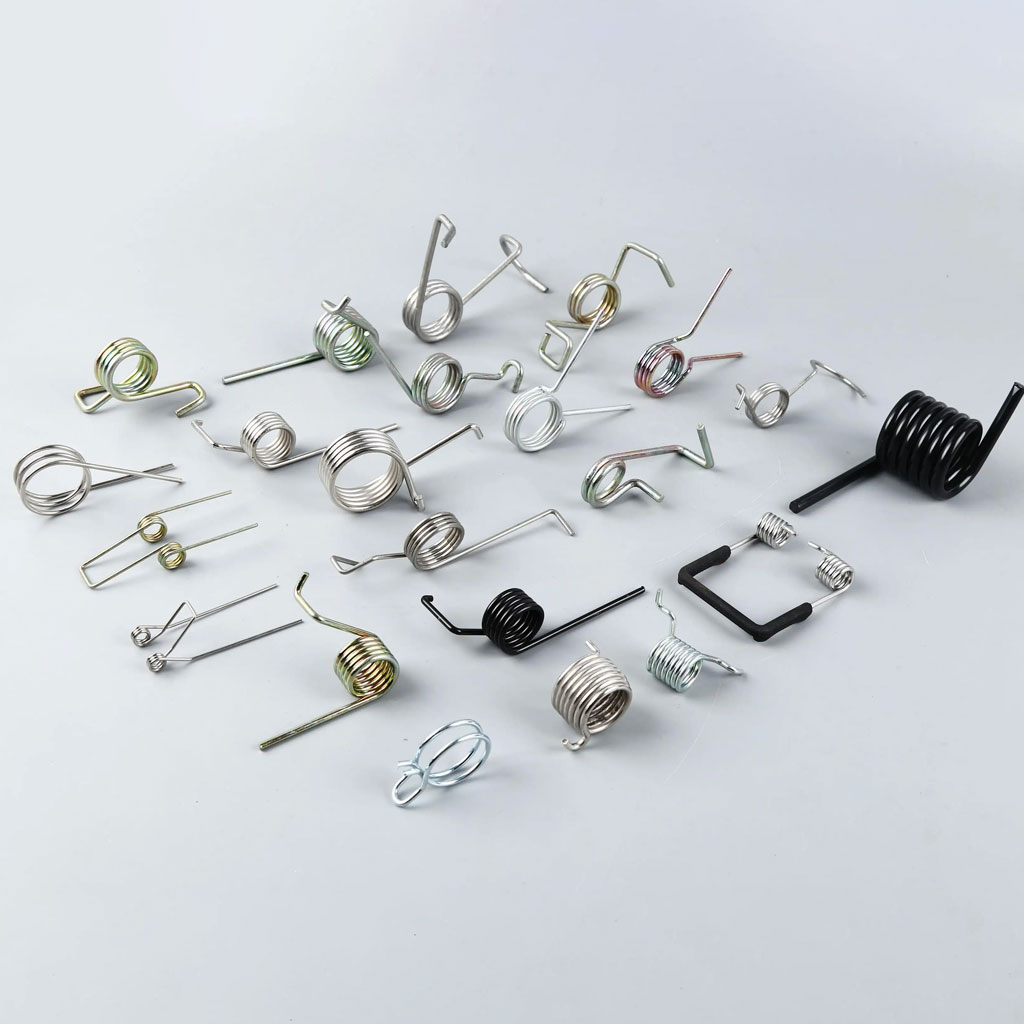 Torsion Springs
---
Torsion Springs is one of the more complicated design principles among all spring types, and the changes of the type are also quite active, so the theory involved in the design is also the most complicated. Torsion springs are coil springs. The ends of torsion springs are fixed to other components, and as other components rotate about the center of the spring, the spring pulls them back to their original position, creating a torque or rotational force. Torsion springs can store and release angular energy or statically fix a device by rotating a lever around the central axis of the spring body. These springs are usually tight body, however, there is a pitch between the coils to reduce friction. They create resistance to rotation or rotational external forces. Depending on the application requirements, design the direction of rotation of the torsion spring (clockwise or counter-clockwise) to determine the direction of the spring. The turns are either tightly wound or spaced apart to accommodate torsional loads (at right angles to the spring axis). The end of the spring can be wound as a hook or straight torsion arm.
Be-Cu metal spring shop offer custom torsion springs including industrial torsion springs, small torsion springs, and double-bodied torsion springs. Our state-of-the-art CNC machining capabilities allow us to create and manufacture standard and double-bodied torsion springs in multiple wire diameters in either round or rectangular wire. We can also support virtually any bend type or orientation. Materials include steel, brass, bronze, and titanium, as well as specialty alloys. We offer expert engineering support for custom torsion spring requests.Torson sprngs are an mortant component in for example seat belt locks. boot ld springs or backrest springs in cars. The result? Whatever your application, we can help.
Torsion Springs In Vast Range Of Choices
---
Torsion springs can either have a left-hand or right-hand helix, or even more complicated double torsion springs. They are made to give a force and torque when one leg is turned relative the other.
For different work environment and applications, torsion springs can be made from various materials and forms; by the combinations of different outer diameter, wire size, leg position and number of coils, we can design the optimal solution.
Our catalog torsion springs can be supplied in wire size range from 0.30 to 2.50 millimeter, as well as custom torsion springs are from 0.20 to 4.00 millimeter.For closed coiled helical torsion springs there will be a friction between the coils giving a hysteresis in the torque-angle performance. Normally the torsion spring body is assembled among with a mandrel but also an outer control with a cylindrical housing is possible.
With fixed assembled legs the spring type can work without a coil body control. Tangential legs give the lowest stresses but also radial and axial legs of diferent types are possible. In many cases the strain in the legs must be considered in the design.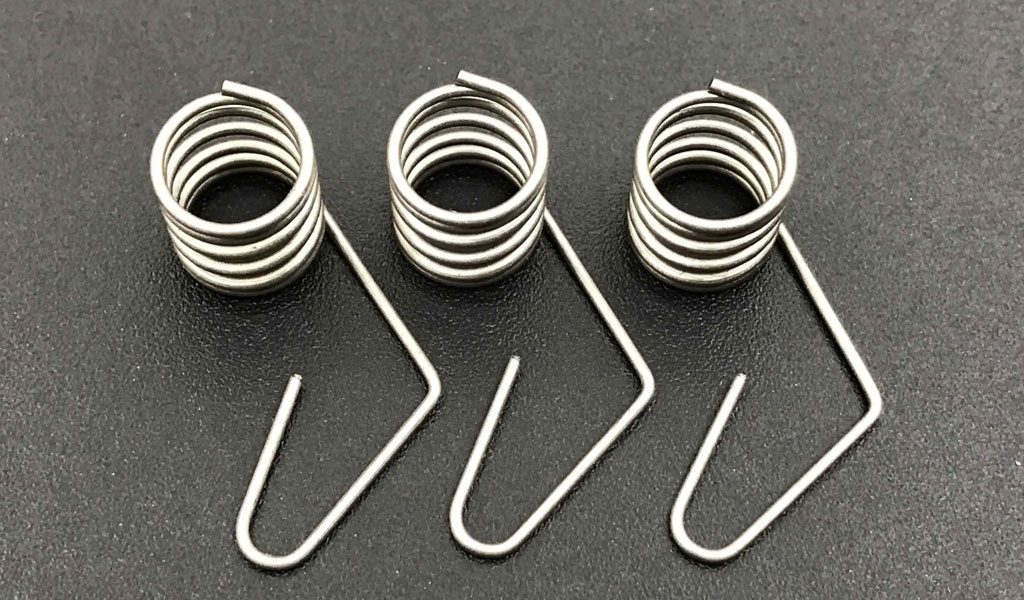 Unique Competence In Manufacturing Torsion Springs
---
We have many years' experience on torsion springs design and manufacture, also we continuously give priority to technological research and development in the field. Our core competitive advantages are our tailor design ability, strict in process quality control, on time delivery and good service.
All our eforts are for satisfying your needs of good torsion springs. We are serving over 3000 industrial clients overall the world, our approved experience of springs in various different branches and applications give you the possibility to receive the best recommendations and springs optimum for your actual application. Environment evaluation and material recommendations, overstress analysis, load, deflection and fatigue analysis are factors our spring experts have unique knowledge about.
We can support you from the idea and understanding of your expectations and application demands to the validation of the design, small batch sampling, and to final bulk production. Our torsion springs can be used in almost every industry sector, which could be the common applications in automobile, electronic devices, automatic applications, but also in foods, packing, medical devices, environment protection, aerospace & airplane.
Our spring manufacturing is organized with highest flexibility and delivery precision, for your immediate needs or small orders we also provide a wide torsion spring stock program range with both music steel wire and stainless steel wire, over 5,300 items on shelves. Irespective of when and where you need a catalog torsion spring or a specially tailored custom torsion spring, we can help you to find an optimum solution.
The Case Studies Of Torsion Springs
---
Currently, our non-standard torsion springs are exported to America, Canada, Australia, United Kingdom, Germany, France, Sout Africa, and many other countries all over the world. We are ISO9001-2015 registered and also certified by SGS.
Our custom torsion springs fabrication service provides durable and affordable springs that meet your specifications for automotive, medical, aerospace, electronics, food, construction, security, marine, and more industries. Fast to send your inquiry or submit your drawings to get a free quote in the shortest time.Contact us or Email [email protected] to see how our people, equipment and tooling can bring the best quality for the best price for your custom torsion springs project.
The Parameters Of Torsion Springs
---
The torsion spring is the extreme of the variant spring, from the single torsion spring to the double torsion spring special-shaped torsion spring, and even the deformation of various torsion bars, it can be formed according to the design. Therefore, it is difficult to grasp the necessary information of the torsion spring when designing:
Free Length.
Controlling Diameter: (A) Outer Diameter, (B) Inner Diameter, (C) Inner Diameter Of The Casing, Or (D) Outer Diameter Of The Round Rod Passing Through.
The Wire Size "Wire Diameter".
Materials (Type And Grade).
Number Of Turns: (A) Total Turns And (b) Right-Hand Or Left-Hand.
Torsion: The Number Of Pounds Deflected To A Certain Angle.
Maximum Deflection (Angle From Free Position).
The Form Of The End.
Please specify: material diameter (d), outer diameter (D), torsion arm length (L), free height (Lo), and other geometric dimensions, such as guiding moments (T 1 T 2… T j ) and corresponding and Corresponding torsion angle (Ψ)
When the spring is twisted, the material is in a state of tension or shear, such as the torsion calculation mentioned, so the limit of the torsion angle is finally caused by the failure of the material, and the original state cannot be restored when the material is plastically deformed. Therefore, it boils down to the tensile strength and shear strength of the material. Of course, the Von Mises stress calculated by the fourth strength theory is the maximum strength that the material can bear. Combined with the length of the spring, the maximum allowable torsion angle can be calculated.
The Application Of Torsion Springs
---
A torsion spring is a mechanical part that uses elasticity to work. Generally made of spring steel. It is widely used in computers, electronics, home appliances, cameras, instruments, doors, motorcycles, harvesters, automobiles, etc. The main equipment of production equipment are: digitally controlled multi-function computer spring coiling machine, mechanical automatic coiling machine, spring grinding machine, heat treatment equipment, large-scale hot coil spring production line, and quality testing instruments.
The Material Summary Of Torsion Springs
---
Carbon Spring Wire:High strength and good performance. Grades B, C and D for low, medium and high stress springs respectively
Piano Wire:High strength and good toughness. Used for important small springs, G2 group has higher strength than G1 group, F group is mainly used for valve springs
Oil Quenched And Tempered Carbon Spring Steel Wire For Valve:High strength and good performance. For internal combustion engine valve springs or similar springs
Oil Quenched And Tempered Carbon Spring Wire:High strength and good performance. Suitable for general mechanical springs. Class B is stronger than class A
Oil Quenched And Tempered Silicon Manganese Spring Wire:High strength and good elasticity. Easy to decarburize, used for high-load springs. Types A and B are for general purpose springs, and Types B and C are for automotive suspension springs
Oil Quenched And Tempered Chrome Silicon Spring Steel Wire For Valve:Has strong fatigue strength, used for high-stress internal combustion engine valve springs or other similar springs at higher operating temperatures
Silicon Manganese Spring Wire:High strength, good elasticity, easy to decarburize. Larger springs for general machinery
Chrome Vanadium Spring Wire:Stable strength and performance at high temperature, used for springs at higher temperatures, such as internal combustion engine valve springs, etc.
Chrome Silicon Spring Wire:Stable strength at high temperature for high stress springs at higher temperatures
Stainless Steel Wire For Spring:Corrosion resistance, high and low temperature resistance, small springs for corrosive or high and low temperature conditions
Silicon Bronze Wire:Has high corrosion resistance and anti-magnetic properties. Elastic elements for machinery and instrumentation
Tin Bronze Wire:Has high wear resistance, corrosion resistance and anti-magnetic properties. Elastic elements for machinery and instrumentation
Beryllium Bronze Wire:Has high wear resistance, corrosion resistance, anti-magnetic and electrical conductivity. Precision elastic components for machinery and instrumentation
Hot Rolled Spring Steel:Good elasticity, used for general mechanical springs