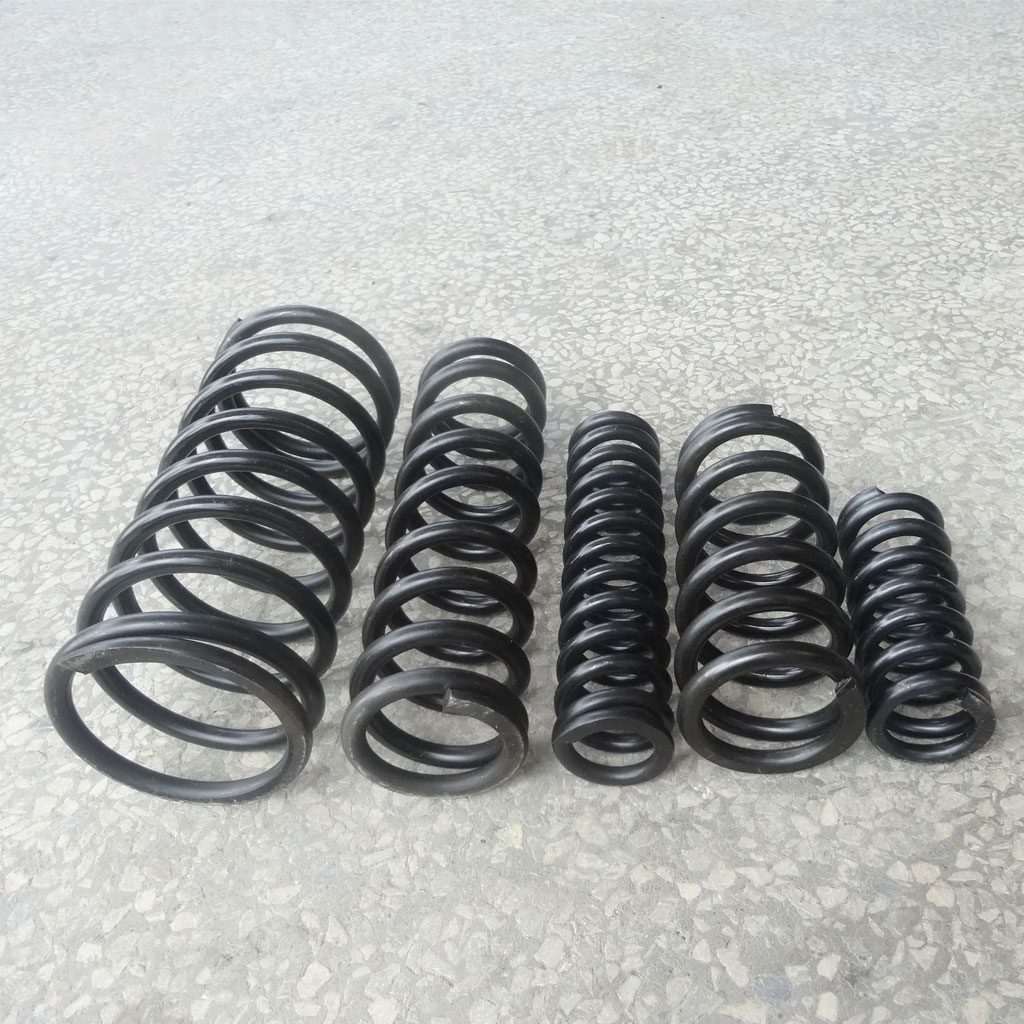 Cylindrical Springs
---
Tension spring, the full name of cylindrical helical tension spring. There are cold coil extension springs and hot coil extension springs. The tension spring is a coil spring that bears axial tension, and the national standard is GB/T2087-2001. The forms of cold-rolled tension spring hooks are:
Half-round shackle, round shackle, round shackle pressing center, eccentric round shackle, long-arm half-round shackle, long-arm small round shackle: suitable for cold rolling, material d≥0.5mm; The stress is large and it is easy to break, and it is generally used in the case where the pulling force is not too large.Adjustable tension spring with turnable shackles at both ends: suitable for cold rolling, generally used for springs with large force and thick steel wire diameter (d>5mm), adjustable length.
The form of hot coil tension spring hook is:Half round shackle, round shackle, round shackle pressing center: suitable for hot rolls, not for springs with special properties.
Cylindrical Springs, the full name is cylindrical coil spring. Because its appearance is often classified in the category of special-shaped springs, we welcome you to call to inquire about related technical matters. The cold-rolled cylindrical coil springs we produce are widely used in machinery, electronic appliances, vehicles, toys, lamps and other supporting industries.
Common series of cylindrical springs: compression springs, tension springs and torsion springs.
Torsion spring, the full name is cylindrical helical torsion spring. The national standard is: GB/T 1239.3-1989. The end structures of the torsion spring are: outer arm torsion spring, inner arm torsion spring, central arm torsion spring, parallel double torsion spring, straight arm torsion spring and single-arm bending torsion spring, suitable for ordinary cold rolled cylindrical torsion springs, steel wire Direct d≥0.5mm.
"Be-Cu Spring" strictly follows the national standard GB/T 1239.3-2009. The cold-rolled cylindrical coil spring has the characteristics of high load capacity, long fatigue life and small deformation. It is the perfect choice for many supporting industries.
The Case Studies Of Cylindrical Springs
---
Currently, our non-standard cylindrical springs are exported to America, Canada, Australia, United Kingdom, Germany, France, Sout Africa, and many other countries all over the world. We are ISO9001-2015 registered and also certified by SGS.
Our custom cylindrical springs fabrication service provides durable and affordable springs that meet your specifications for automotive, medical, aerospace, electronics, food, construction, security, marine, and more industries. Fast to send your inquiry or submit your drawings to get a free quote in the shortest time.Contact us or Email [email protected] to see how our people, equipment and tooling can bring the best quality for the best price for your custom cylindrical springs project.