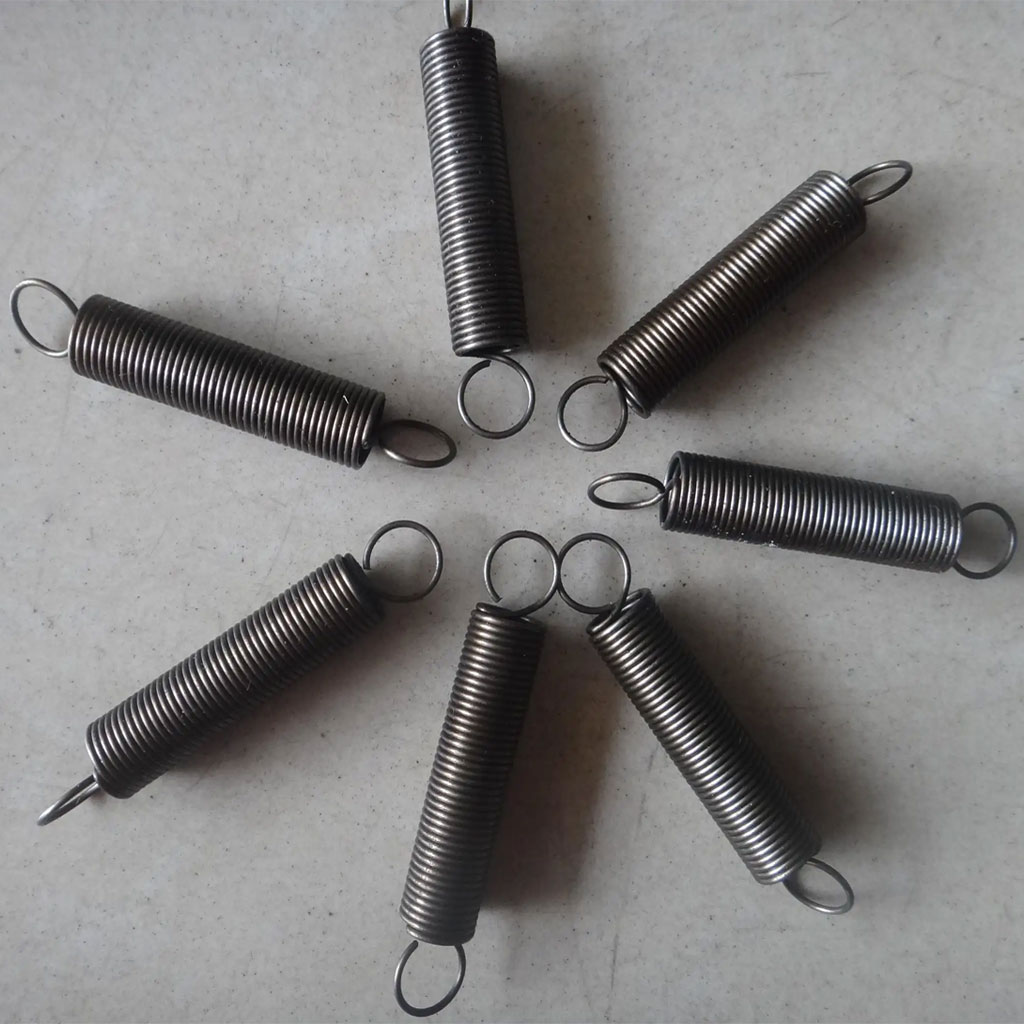 Extension Springs
---
The extension springs(alias tension spring) is a coil spring that bears the axial tension. It uses the tension after tension to store energy. When it is not load-bearing, the coils of the tension spring are closely spaced, and the coils are generally close together with no gaps. Therefore, the tightness of the coiling of the tension spring is determined by the initial tension. Tensile springs are generally made of circular section materials, which are generally made of stainless steel, piano steel, high carbon steel, phosphor bronze, oil-tempered alloy spring steel, etc.
It uses the rebound force (pull force) after stretching to control the movement of the parts, store energy, measure the size of the force, etc. It is generally used in equipment and instruments. The hooks are in the form of side hook tension springs, long hook tension springs, English hook tension springs, German hook tension springs, semicircular hook tension springs, duckbill hook tension springs, etc. The materials are stainless steel, piano steel, high carbon Steel, phosphor bronze, oil tempered alloy spring steel, etc.
Extension springs are used in a wide variety of applications where a precise amount of force is required at a certain deflection.Our stock extension springs have outside diameters ranging .063"-1.25" and Free Length From .250" – 7.50". The loops are either cross center or machine. If you are not able to find one of our stock items that matches your needs, we can make virtually any design. If you need design help we have a responsive and experienced staff of engineers. Or check out technical resources section for almost everything spring related.
APPLICATION
Like compression springs, extension springs have a very wide range of applications. For example, they are widely used in machine tools, automation, power transmission, door closers, etc.
Extensive Choice For Use With Extension Springs
---
Extension springs are designed to produce a specific tension when stretched a certain length. Extension springs are available in many different materials and designs for different environments and applications. By adjusting the outer diameter, wire diameter, length and number of turns of the spring, we can obtain almost unlimited spring sizes and tensions.
At present, the standard extension springs provided by our company use wire diameters ranging from 0.20 mm to 3.00 mm.The tension spring produced by cold rolling can have a certain initial tension, which is used to keep the coils closed before the spring body is pulled apart. The size of the initial tension can be adjusted during production.
The most common structures at both ends of the extension spring are various shapes of loops and hooks, and a variety of different mechanical parts may also be used.The shapes of common pull hooks can be divided into: semicircle hooks, German hooks, English hooks, extension hooks, side hooks, built-in pull hooks or screw-in pull heads, etc.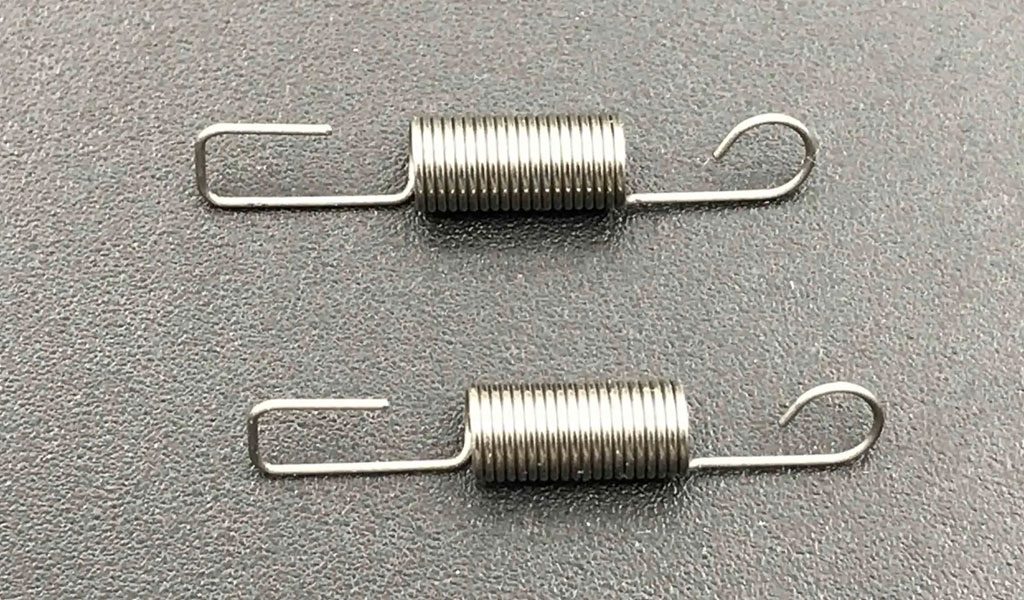 Why Choose Our Extension Springs Services
---
Be-Cu have long-term experience in the design and production of various types of extension springs and various materials, and pay continuous attention to the improvement of production processes. Our core competitiveness is reflected in the design and development capabilities of spring products, strict quality control, good delivery and service. All our efforts are only to better meet your tension spring needs.
Be-Cu serve more than 5000 industrial customers at home and abroad, covering a large number of different industries and applications, which gives you the opportunity to get our most practical advice and optimized spring products for a specific application. Our spring experts are particularly skilled in performing application environment assessment, material selection, stress level analysis, comprehensive analysis of loads and deflections and fatigue life. We can cooperate with you to start from application ideas, understand your usage needs, then design verification, small batch proofing, and complete one-stop service for batch orders.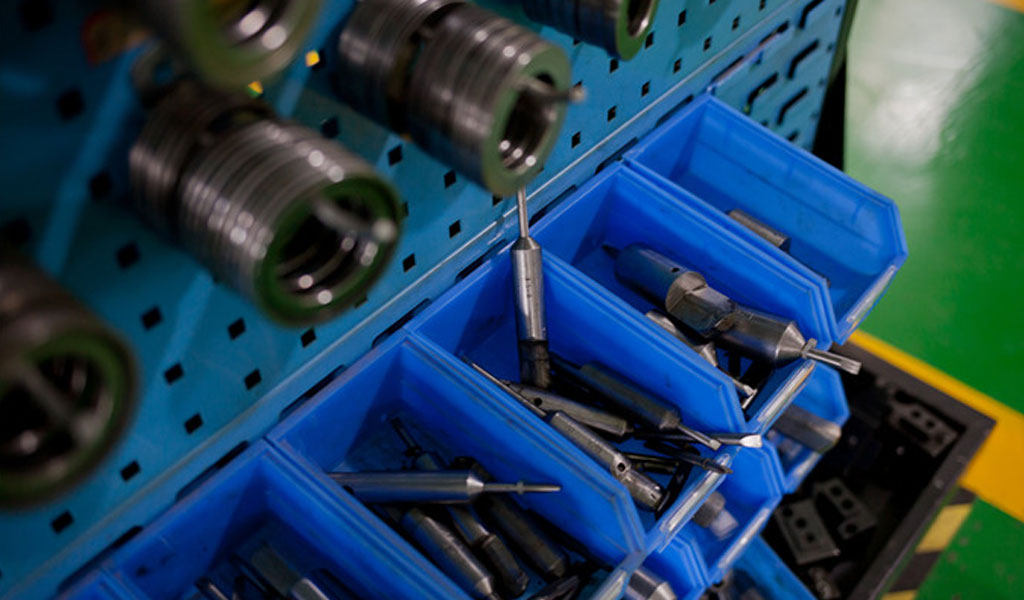 Be-Cu spring production has a high degree of flexibility and precision. Our extension springs can be used in almost all industrial fields, in addition to the common automotive, electronic automation and other fields, but also suitable for food, packaging, medical equipment, Environmental protection, aerospace, etc.For your small or rush orders, we also offer an extensive stock of standard extension springs in piano wire, stainless steel and high fatigue-grade chrome-silicon wire. There are more than 19,000 kinds of specifications, and the stock is available all the year round. Whether you need to buy a ready-made spring standard part or an on-demand design-a spring custom part, we can provide you with the best spring solution.
The Case Studies Of Extension Springs
---
Currently, our non-standard extension springs are exported to America, Canada, Australia, United Kingdom, Germany, France, Sout Africa, and many other countries all over the world. We are ISO9001-2015 registered and also certified by SGS.
Our custom extension springs fabrication service provides durable and affordable springs that meet your specifications for automotive, medical, aerospace, electronics, food, construction, security, marine, and more industries. Fast to send your inquiry or submit your drawings to get a free quote in the shortest time.Contact us or Email [email protected] to see how our people, equipment and tooling can bring the best quality for the best price for your custom extension springs project.
The Calculation Formula Of Extension Springs
---
Spring constant: expressed in k, when the spring is stretched, the load for each additional 1mm distance (kgf/mm)
Spring constant formula (unit: kgf/mm): k=(G*d 4 )/(8*D m 3 *N c )
G: modulus of rigidity of the wire; d: wire diameter; D m : middle diameter=outer diameter-wire diameter; Nc : effective number of turns=total number of turns-2.
The initial tension of the tension spring: The initial tension is equal to the force required to pull apart the springs that are close to each other and the initial tension occurs after the spring is rolled and formed. During the production of tension springs, due to the difference in wire material, wire diameter, spring index, static electricity, lubricating grease, heat treatment, electroplating, etc., the initial tension of each tension spring is uneven. Therefore, when installing the tension springs of various specifications, it should be pre-tensioned to a slight distance between the parallel coils. The force required at this time becomes the initial tension.
Initial tension = Pk X l = maximum load – spring constant X stretch length
The Features Of Extension Springs
---
A number of different termination devices or "hooks" are used to secure the source of tension for the extension spring. An extension spring works the opposite of a compression spring . Compression springs act in the opposite direction when they are compressed, and tension springs act in the opposite direction when they are extended or pulled apart. When the ends of the extension spring are pulled apart, the spring tries to pull them back together. Like compression springs, extension springs also absorb and store energy. But unlike compression springs, most extension springs are usually under some tension, even without any load. This initial tension determines how tightly the tension spring coils without any load.
The Application Of Extension Springs
---
Extension springs, also known as helical extension springs, are generally of equal pitch and mostly circular in cross-section. They can be used in many occasions, such as production assembly, experimentation, research and development, and maintenance. Tension spring occupies an important position in the global market and is widely used in national defense, marine, computer, electronics, automobile, mold, medicine, biochemistry, aerospace, railway, nuclear power, wind power, thermal power, construction machinery, mining machinery, construction machinery, elevators, etc.